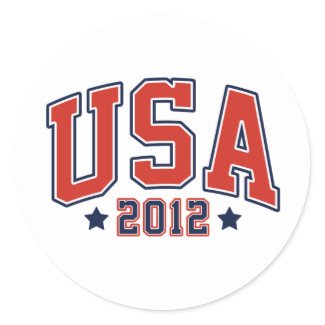 USA 2012 Team USA Games Sticker by USATeam
Get the best in sticker printing at zazzle.
Tonight (which will probably be a lot earlier in my time zone here in the USA) the Opening Ceremonies of the 2012 London Olympics begin. The Opening Ceremonies are always exciting to watch, with a lot of cultural elements from the host country, and of course, the Parade of Nations.
I won't be able to watch it live myself (I'm out in Texas for a political event), but I set my Tivo before I left home and I'll watch it when I return on Monday morning. Along with all the other great events that will be going on for the next couple of weeks.
One thing that has been on the back of my mind for the last couple of weeks is the Munich Olympics. I wasn't even alive yet when they happened, but it was a sad day in Olympic history. I may write about it at some future date, but for those who may not know, several Israeli athletes were killed on that date.
As much as I love the Olympics and the Opening Ceremonies, I realize that the situation in the world right now is pretty unstable. A lot of people in Europe especially are struggling right now. Syria is a mess, and extremists around the world haven't been reigned in. The London Olympics seem to be providing world-class security, but you never really know what can happen. I used to work in security, and you generally can find a way to make an attack if you really put your mind to it. The Olympics are the place where people wanting to bring terror in the world can do so with the eyes of the world watching.
I'm praying for a safe Olympics. This is generally the one time that people from other countries can set aside their differences for the sake of competition. My kids and I have already been celebrating the Olympics (we went to US men's gymnastics contestant Alex Naddour's celebration party before he left for London). Although I won't be able to enjoy all of the competition live for the next few days while I am out on the road, I will be paying attention as I can and will be excited to get back home to start watching the games.